CJ Watson returns with his fourth studio album release, presented by DirtyRed Production and Real Every Day Entertainment, LLC. In 'TheRoseSTAR' the Dallas multifaceted artist weaves together storytelling and lyricism to offer listeners a perspective on Portland, Oregon aka The City of Roses, where he was born, as well as his upbringing in Dallas, Texas, aka The Lone Star state.
The 18-track album comes with elite, special features including J.Waiters, Street Da Villain, #Mandi, Tag, SoloTX, ChurchBoi, Garshar, Tad Nips, and B$G Lil'Ken. Watson also enlisted Poetic Killa, Phow Slurz, Gifted Legacy, UnknWxn, and Pablo Brown Beats for production.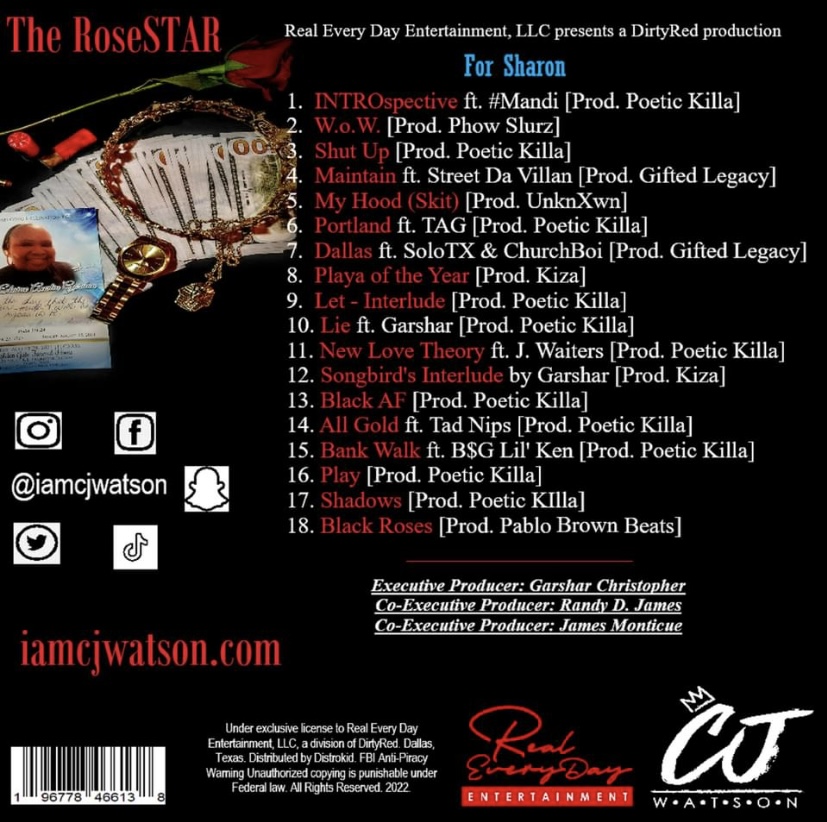 CJ Watson's energy on the project in combination with different aesthetics for each track is sure to entice audiences while the hooks linger long after the album is over.
Seconds into Black AF and audiences transcend into 70's soul with soft harmonies and tangible storytelling. Watson's flow, clear and conscious, depicts the beauty of being black. The track serves as a reminder and ode to embrace and love culture. "I'd rather be a real man than a real n*gga."
In Shadows, Watson openly shares what it feels like to lose his mind, in such a relatable manner that souls will lift and thoughts will shift to become more hopeful. "I'd rather be numb than feel my face." Watson addresses the elephant in the room and brings awareness to mental health. His unyielding honesty and emotions will raise body hairs…
Head over to iamcjwatson.com to hear the album in its entirety. This dose of earmilk is one that will not sour or expire.
Connect with CJ Watson
Stream The RoseSTAR on preferred platforms – https://album.link/pwt5x80nvnjmw
Facebook: https://www.facebook.com/iamcjwatson
Twitter: https://twitter.com/iamcjwatson
YouTube: https://www.youtube.com/channel/UCvjuJge7gp-Iy0O-mj4h4KQ
Instagram: @iamcjwatson
TikTok: iamcjwatson
IG @iamcjwatson