Vetted DMV multi-faceted artist Chuck Da Arsonist announces the release of his new album titled 'Words Right Now.' The 17-track project features an esteemed cast of talent including Tone Jonez, Rosie OhMyGod, Dope Boyz Muzic, Breana Marin, Foxx Mr. Grgl, and Young BoutDat. 'Words Right Now' is available on all major streaming platforms.
Chuck shows off his eclectic agility to deliver cut-throat punchlines, blatantly blunt storytelling, captivating lyricism, along with raw emotion which is sure to entice Hip Hop heads across the globe. The album embodies Chuck's personal and professional come-up. He touches on past trials and tribulations, the hustle and impact of street life, poverty-stricken times, love and relationships, and his booth entrance which led to tremendous earned success.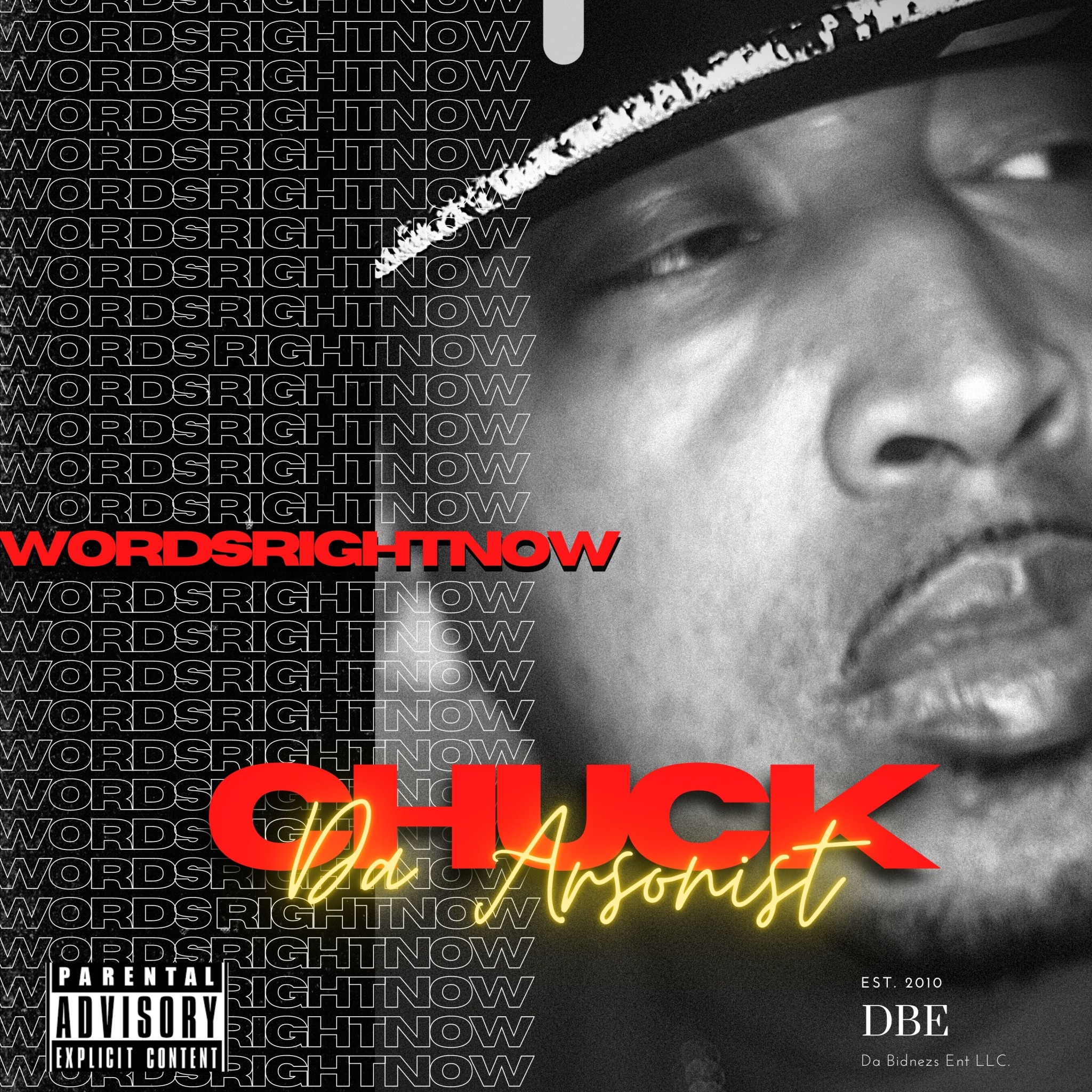 Welcome Me Home not only sets the album off it also sets the tone and vibe. Chuck states he's back home and back in his zone. On his Diddy sh*t he's wearing his DMV throne, not fitted for any other contenders. Maryland Raised Me invites listeners into Chuck's journey from childhood through the present time. He was a boy who grew up too quick, not by choice, who lasted through it all to become a man. Chuck's vivid lyricism/storytelling underlines his journey and growth, both personally and professionally.
In Threat, Chuck introduces Da Arsonist…He's burning through verses causing continual wildfires. There's a method to his madness and his mission is to get that message out to the masses. With an automatic mindset and hustler's intuition, he cannot be stopped. Watch the video below.
Chuck lights the mood up just a bit for a DMV club banger in Blow. The catchy hook blares as models, groupie love, dollar bills and twerking, and countless bottles hit all five senses for an intoxicating vibe. Watch the video below.
Love Unconditional, a relatable track, displays Chuck's vulnerability. With his heart on his sleeve, he pleads his case for unconditional love. Although he's not perfect and he's made mistakes, his remorse is transparent.
Chuck describes his motto when it comes to money in Weight Class. There are no handouts in life only 24/7 hustle and grind. Because of that, he reigns in his own weight class and his ears only perk out around the talk of money or business moves.
Runnin' shifts gears back to the ladies and depicts the length we go for that special one. Everything is picture-perfect, diamonds just enhance the luminosity of love. Words Right Now, although also about love, focuses more on self-love. Chuck opens the realm to mental disparity. The tug-of-war of dancing with sinners and trying to grip onto a positive track in life seems almost impossible to win at times. He needs all the words and prayers in the world to get him back into a good space…Luxury Status, however, is a celebratory track. "Livin it not dreamin it we getting it." Chuck shares about his shady teenage years and really making it out of nowhere. While his friends were graduating, he was entering prison gates. But now, he's flying from Miami to Tahiti and getting chauffeured around. Make no mistake, Chuck is not gloating about his wins or success, rather he's sharing a detailed autobiography from point A to point Z. There's a valid reason to celebrate!
Chuck heats things up in Body Language, a sensual and tempting track sure to get everyone in shades down and lights off mood. Simply allow the hands to guide and bodies to talk. The blend of rhymes and vocals exudes a stimulating sense of erotica.
My God serves as the revolutionary track of the album, hyping listeners to get fists in the air. Chuck canvasses black experiences by mentioning racial profiling, destruction of communities, and being shot at by the law even when not resisting. His potent wordplay and powerful deliverance raise neck hairs.
Way Too Original defines entrepreneur moves behind power couples, without giving away too many free jewels. From Sunday through Sunday there lies no competition. Know About It piggybacks that theme and calls out sideline rappers attempting to become relevant. School is in session when Chuck reminds them, they lack a certain DMV signature quality that can't be matched. Get Tha Gory takes it even further stressing that those rappers don't have what it takes to be elite in the Hip Hop scene. You have to get the glory to be victorious (the formula is not easily comprehended).
In The Relapse, Chuck shares about diving into a past relationship even though there's a reason why it's a past relationship. He can't resist her sweet nectar, kisses, and other addictions. It all keeps him running back. Ima Miss U is for everyone who's lost someone close to them and didn't have the chance to say or share everything they wanted to. It reminds us to be present when our loved ones are above ground. Father's Love concludes the album and is in tribute to his children, 4 sons, and 1 daughter. The most heartfelt track, Chuck proclaims how honored he is to be their father and his vow to hold them down from cradle to grave. They are the last of his lifeline and he will crown them all. Something bigger than him has given him five reasons to live.
Chuck Da Arsonist honestly encompasses every aspect of his life inviting the world into his mind, heart, and soul. His rhyme schematics and unyielding emotions are heightened by a diverse arrangement of melodies and tones. From trippy sounds mixed with old and new school blends, cinematically chilling tones to gritty cadences, and soulful 70's cascades. Press play and absorb this mastered dose of ear milk.
Stream 'Words Right Now' and connect with Chuck Da Arsonist below.

Connect with Chuck Da Arsonist
https://www.facebook.com/ChuckDaArsonistTheArtist
Twitter.com/chuckdaarsonist
https://www.chuckdaarsonist.net
Instagram: @chuckdaarsonist_cda