Another day, another "best rappers" list that has fans and artists all worked up over the selections. On Tuesday (June 1) RapRadar and MTV's Brian "B. Dot" Miller posted a tweet revealing his Top 10 picks for the best rappers in 2021 so far. On the list were, in order, Lil Baby, J. Cole, Lil Wayne, Conway, Benny The Butcher, Drake, Freddie Gibbs, Nas, JAY-Z and Jim Jones. The list is respectable, but someone on the list had something to say. 
New York Hip Hop star Jim Jones was not happy with his standing. He took to Instagram and reposted the picture of the list, explaining he wants to challenge everyone on there to see who's deserving of their spot.
"I didn't make this list but tell @bdottm th list is cute I'm a start chopping this list down one by one lol," Jones wrote in the caption. "Matters fact put me in th booth wit anyone of these artist and let's do it live see who's left standing. Thts how we can really settle this shit like th westerns shoot th booth up."
He continued, "Makin music is fun till u gotta go head to head I love competition. Anybody wanna rump let me know besides th competition we can make a serious bag turn this into a NFT and everybody walk away wit a bag like a @floydmayweather fight. Yal let me know if any of these artist accept th challenge I'm ready."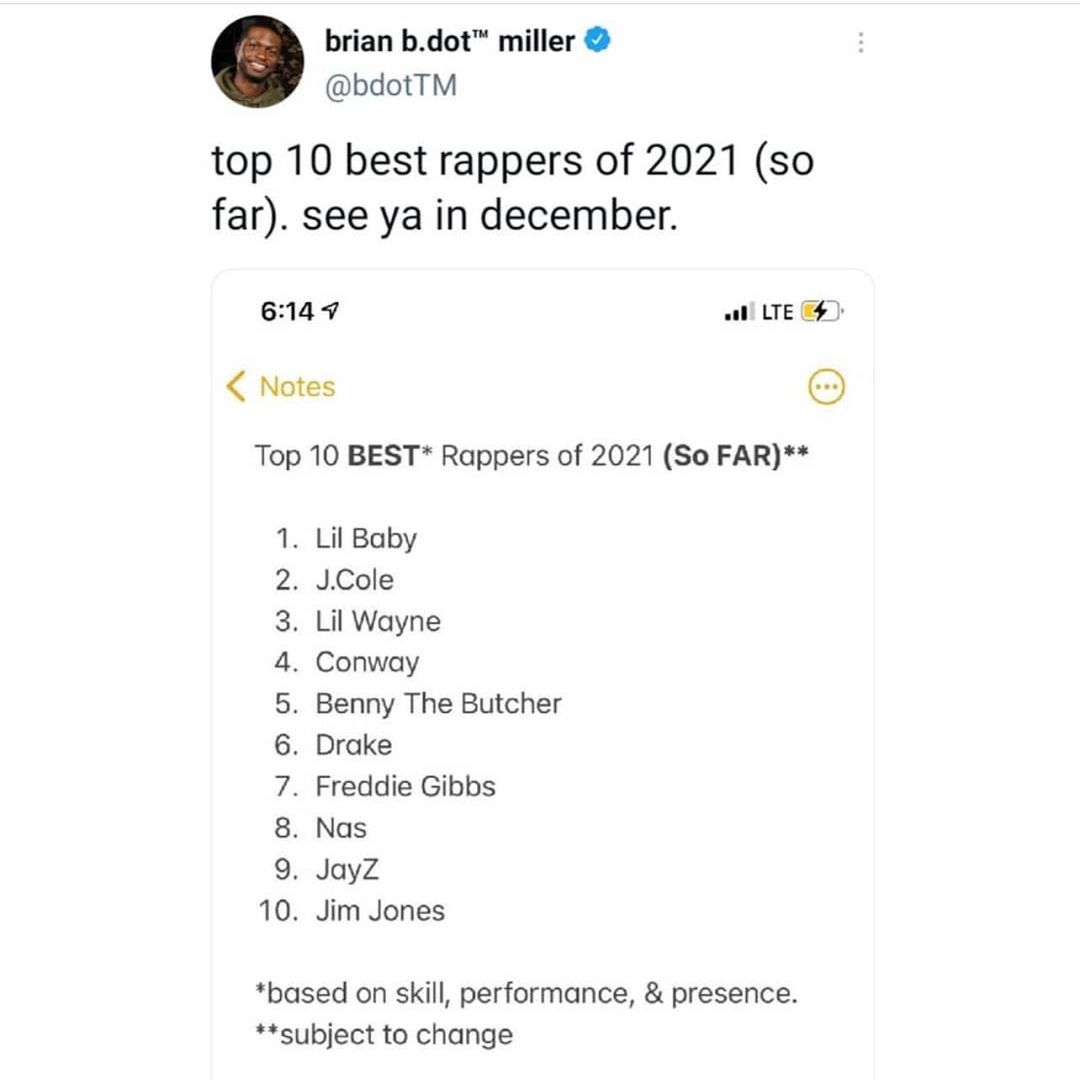 B. Dot's list got a few journalists feeling a type of way, too, mainly Sowmya Krishnamurthy, who confronted the RapRadar podcast host for the lack of women on the list.
"Now Brian, you're missing the entire female race," she tweeted in reply to his list. "Also, the median age of this list is like 40. We gotta stop the ageism and sexism in the rap industry. Please and thank you."
B. Dot heard her loud and clear and responded with a bit of humor, saying, "you know i'm a misogynist."
Jim Jones has a right to feel confident after this impressive three-year run he's been on. Starting with his album, Wasted Talent, in 2018, Jim Jones has shown a vast improvement to his lyrics and production. During his interview with HipHopDX, Capo said he's pushing out several albums this year to prove a point. 
"I got a chip on my shoulder and something to prove to myself, not to nobody else, that I'm way iller than your favorite rapper," he said with a smirk across his face.
He added, "What used to be a hustle turned into a passion, and my passion turned into my competitive spirit, and me being a competitor, I need to show myself that I am way iller than your favorite rapper."