Lil Baby and Lil Durk are set to drop their collaborative album The Voice of the Heroes on Friday (June 4). Before the whole project arrives, the Atlanta and Chicago rappers shared the tracklist for the project two days in advance.
Releasing in a joint venture between Quality Control Music, Alamo Records and Motown Records, The Voice of the Heroes consists of 18 tracks from the duo, with guest appearances coming from Travis Scott, Meek Mill, Young Thug and Rod Wave. The lead single "Voice of the Heroes" appears as the first song on the tracklist.
In Lil Baby's Instagram post revealing the tracklist, he said, "We Setting The World On Fire."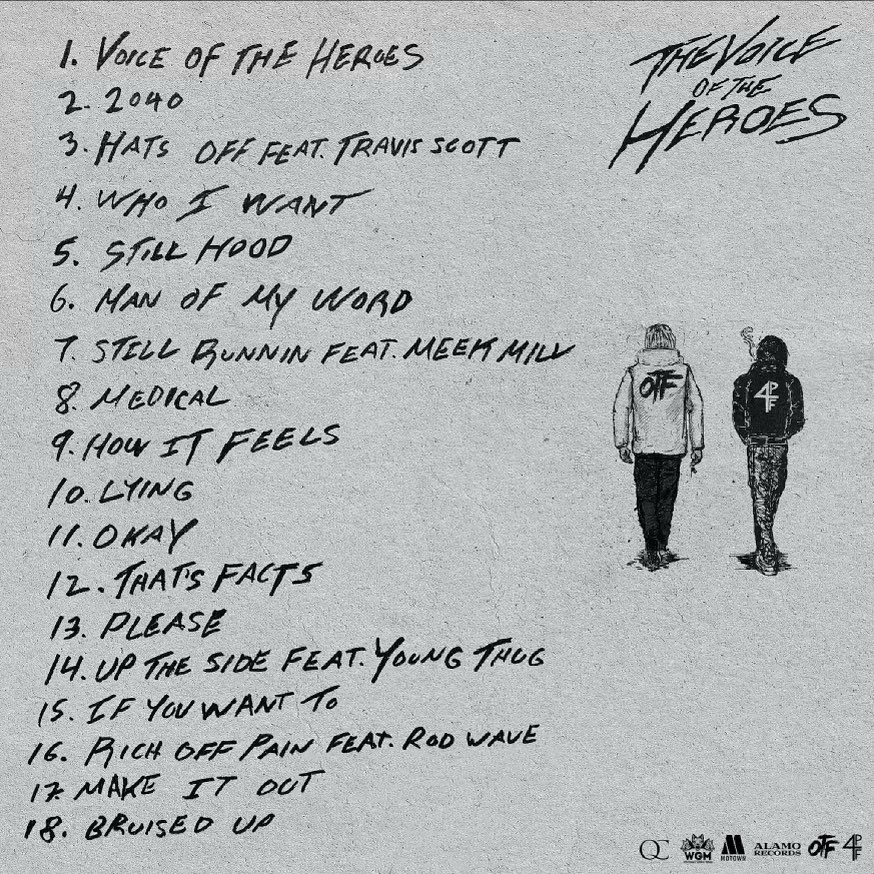 The pair dropped the album's Touch of Trent and Haze-produced title track on Monday (May 31), along with an accompanying visual.
"Never get too big for me to listen, I'll take your advice," Baby raps on the song. "I just told Durk, 'We rich forever if we play it right'/Just keep on bein' the voice, I'll be the hero/And everything I got is a profit, started with zero."
"Voice of the Heroes" racked up over four million YouTube views in less than two days.
In March, Lil Baby talked about him and Lil Durk representing the streets and what to expect from their joint LP.
"When it comes to that street shit, the hood, it's like we the voice and heroes of this shit," he said. "Kids look at us like heroes, I know they look at me like one and Durk too. That n-gga been holding it down for a minute."
He added, "We got songs we just bars, we got songs we the vibe, we got songs with other people that just remake some other songs. It's gonna be one of the craziest albums to ever come out. We got more than one album recorded. We been locked in with each other. That shit easy."
Last month, Lil Baby and Lil Durk also teamed up on "Every Chance I Get" off DJ Khaled's No. 1 album, Khaled Khaled.