Veteran Hip Hop artists Method Man, Del The Funky Homosapien and R.A. The Rugged Man are a few of the special guests who have contributed to iNTeLL's forthcoming album Computers For The Hood. 
The 2nd Generation Wu member and son of Wu-Tang Clan royalty U-God is expected to drop the album on June 9, but it didn't exactly come together easily. According to a press release, the road to Computers For The Hood was "long and arduous" due to creative burnout and the stress of the ongoing COVID-19 pandemic.
"This is the album I was made to make, the album my father has been telling me to make for 10 years," iNTeLL tells HipHopDX. "This is my sistine chapel as a lyricist and as an audio engineer."
The press release describes the effort as "a tight 11-track showcase of creative partner DLP's raw old school-influenced production that still has a modern flair perfect for 2021. "The beatwork serves as the perfect canvas for iNTeLL to confidently lay down memorable bars, hooks, and stories that serve as a perfect homage to his home turf of Staten Island."
Method Man has contributed to 2nd Generation Wu endeavors in the past, which isn't surprising considering his son PXWER is also in the group. In April 2020, Method Man and his son connected on wax for the first time ever for the 2nd Generation Wu remix "New Generation." Along with inTeLL, the father-son duo effortlessly swapped bars over YODI and intelligent's dark, keyboard-laced beat.
"It's dope to work with my pops," PWXER told DX at the time. "It's like a dream come true to be honest. I knew he was gonna body me, but it's whatever. Not many up and coming artists can say they worked with a Hip Hop legend like Method Man."
2nd Generation Wu dropped the original "New Generation" cut in February 2020. For this particular single, Young Dirty Bastard (Ol' Dirty Bastard's son) and Sun God (Ghostface Killah's son) are absent, while PXWER and iNTeLL carry the torch.
But on Computers For The Hood, iNTeLL was particularly excited about working with Hieroglyphics legend Del.
"An opportunity to work with Del tha Funkee Homosapien came up," he says. "He is not only one of my lyrical mentors but one of the dopest emcees to exist, so I quickly signed on for that collab." Inspired by this initial pairing, he explored the possibility of gathering a veritable collection of features and collaborators that helped solidify Computers For The Hood.
"We ended up being able to secure verses from Method Man, Del, the Team Backpack champion Denzil Porter, Tahmell (son of Rakim), my second collaboration with Mickey Factz, Ruste Juxx, and the king of lyrical Horrorcore R.A. The Rugged Man. This little EP turned into a full-fledged studio album with notable features, incredible production and a message that resonates."
Check out the Computers For The Hood cover art and tracklist below.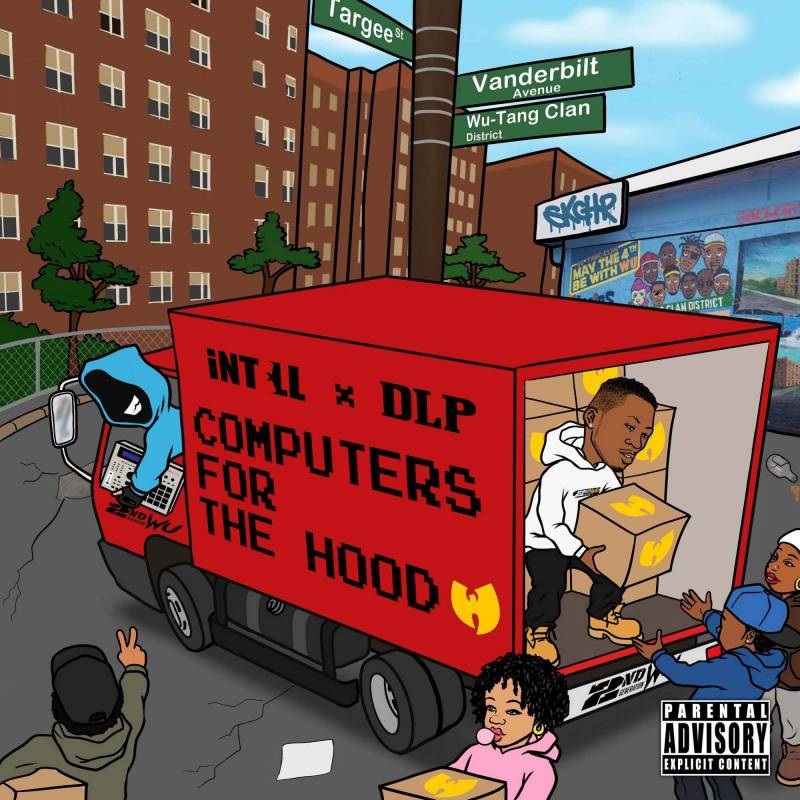 Computers For… (Intro)
Horahhh f. Del The Funky Homosapien)
Entertainment f. Denzil Porter)
Now I Know
Bad Apples (Skit)
Beatside Staten f. Eddy I
Motherboards f. Tahmell and Mickey Factz
The Owl Cry f. Ras Kass and Ruste Juxx
Django Hardware f. Prema777
Know The Gospel f. R.A. The Rugged and LDonthecut
… The Hood? (Outro)