Grimy rap tag-team Moemaw Naedon & Calig Kontra bring their evocative approach to writing rhymes to life in this new lyric video for "Pass the Vodka," one of many standouts off their upcoming collaborative album, Cult Theatre.
Given their creative and vivid raps, it's only fitting that these visuals serve to highlight exactly what they put down on the page. Even better, the lyrics are accompanied by a still image depicting a smoky bar setting, where you can imagine the two emcees writing and practicing their rhymes with one another.
With this level of artistry on display, almost every bar is worthy of a callout from Moemaw and Calig. But if we have to pick favorites, Moemaw kills it with "One more step and I'ma fall into oblivion/ Forfeit inhibitions and go automatic simian." As for Calig, it's tough to top these bars: "Seen the end, stopped the meds, dropped the best, a heathens blend/ Even God's depressed, no oxy's left and, the beast descends."
Check out the lyric video and head over to your preferred streaming platform to support. Cult Theatre is available now for pre-order and officially drops on Thursday, June 03 on classic black vinyl and through all major DSPs via Soul Slime Records.
Smart URL: https://smarturl.it/CultTheatre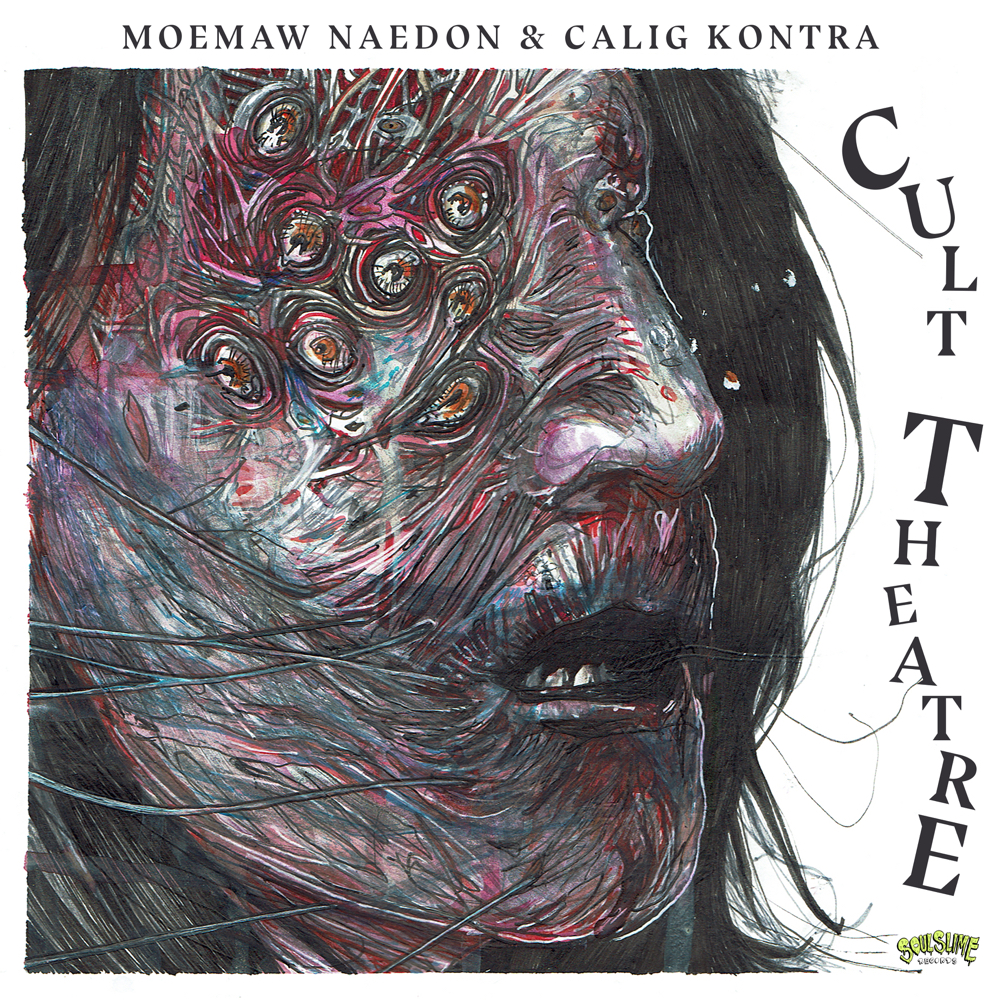 Tracklist:
01. A New Abyss
02. Lucid Fragments (feat. Lyrikill, DJ Skratchmo)
03. Witches Sabbath (feat. Lord Goat)
04. Magenta Brainwash
05. Sovereign Sirens
06. Pass the Vodka
07. Tortured Calculations
08. Altered Beast
09. Futura Dystopia
Moemaw Naedon Online:
• Twitter: https://twitter.com/MoemawNaedon
• Instagram: https://www.instagram.com/moemawnaedon
• Facebook: https://www.facebook.com/moemawnaedon
• Spotify: https://open.spotify.com/artist/5yo4jKW6ywW2n97PsfSdxR
Calig Kontra Online:
• Twitter: https://twitter.com/CaligKontra
• Instagram: https://www.instagram.com/calig_kontra
• Facebook: https://www.facebook.com/calig.kontra
• Spotify: https://open.spotify.com/artist/3gbUWzrxbPLLlIIaYEfJGw