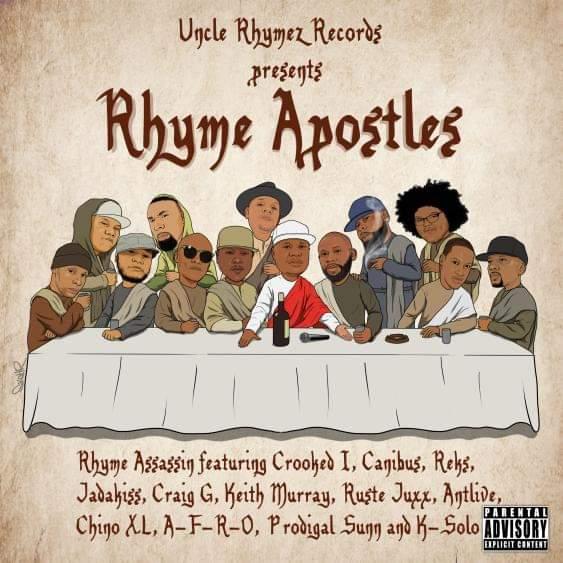 "Initially the idea was to have four emcees on the track.  However, this concept came to me inspired by the story of Jesus from the Bible, how he surrounded himself with twelve apostles.  I was on a mission to recruit some of the most legendary lyricists in the game as apostles of rhyme."
UK Based, Zimbabwe born and raised emcee Rhyme Assassin details the genesis of his newly released track, Uncle Rhymez Records Presents "Rhyme Apostles." Produced by the UK's Deep Voice and was mixed/mastered by fellow Zimbabwean P2Doah the track boasts the assemblage of the Avengers of rhyme including Jadakiss, Crooked I, Canibus, Reks, Craig G., Keith Murray, Ruste Juxx, Antlive, Chino XL, A-F-R-O, Prodigal Sunn and K-Solo.
Craig G., who many hip-hop fans know for his work in the legendary Juice Crew and who also wrote many of the battle rhymes used by Eminem and his opponents in the film 8 Mile called the track a "global situation."
Listen to "Rhyme Apostles":
The track is available now via all DSP's and fans will be pleased to learn that a video to accompany the track is in the works.  "Realizing this track to reality was a monumental and long task but overall a highly enjoyable one.  However, I was rewarded by each of these legends willingness to see my vision and deliver.  I am truly humbled with the result."
Rhyme Assassin began his emcee journey in the year 2000 where he quickly established himself as a battle rapper and artist in his native Africa. After moving to the UK he put his music career on hold for a time. However in 2012 after linking with UK producer Deep Voice he began creating music again.
Starting his own label, Uncle Rhymez Records he has amassed a discography of solo work and is also releasing work by Bulawayo based T9yce.
More Info: https://www.instagram.com/rhymeassassin/