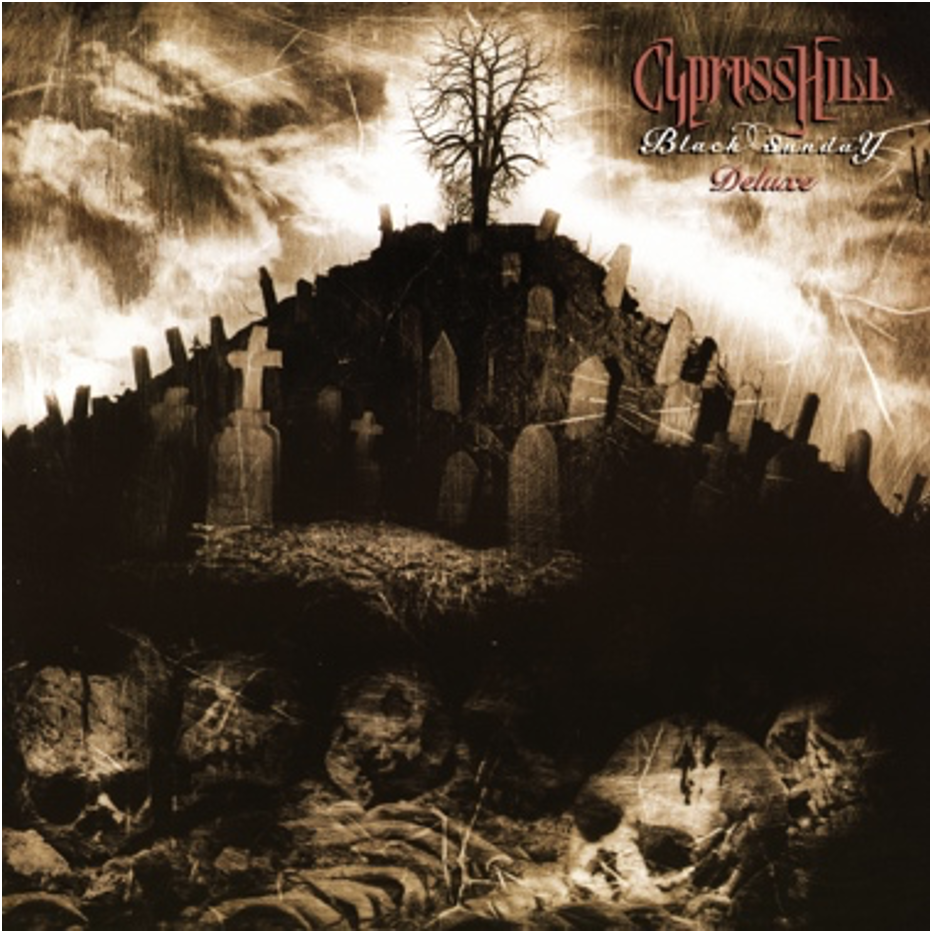 (New York, NY – July 7, 2023) – Continuing to honor the 50th anniversary of Hip Hop in 2023, Sony Music Entertainment (SME) and Certified proudly present Cypress Hill's Black Sunday Expanded 30TH Anniversary Edition digital release, out July 20, 2023. Pre-order/Pre-save HERE
This comprehensive collection not only boasts the original Black Sunday in its entirety, but it also features five bonus tracks, including two brand new remixes. The two remixes are amongst Cypress' biggest catalog tracks, "Insane In The Brain," from veteran DJ/Producer Statik Selektah, and "Hits From The Bong," by none other than DJ Muggs himself. In addition to the brand new tracks, there is a new to DSPs remix of "Lick A Shot" by Baka Boyz, the Spanish version of "Insane in the Brain," dubbed "Loco En El Coco," and rarity "Scooby Doo."
Bolstered by the bonus material and the legendary 14-track rollercoaster, the 30Th Anniversary Edition invites complete immersion in the inimitable sonic framework of the LP and the culture of Black Sunday. You'll practically smell the smoke, hear the sirens, and feel the energy of a decaying Los Angeles on the brink when the group recorded it. This is the ultimate vision of Cypress Hill's masterpiece.
In partnership with Certified, Get On Down will be reissuing Cypress Hill's second studio album on vinyl for the 30th Anniversary of the release with the original tracklist from 1993 plus three bonus tracks that were previously on 12-inch singles including the B-Side fan favorite "Scooby Doo". The album will be pressed on double-colored vinyl and packaged in a gatefold jacket with printed inner sleeves and a commemorative numbered OBI limited to 1,993 copies worldwide.
The vinyl may be pre-ordered exclusively at Get On Down HERE
On July 20, 1993, Los Angeles hip-hop legends Cypress Hill first unleashed their sophomore opus, Black Sunday, on the unsuspecting masses. The record changed rap music with its dark undercurrent, Latin inflection, no holds-barred storytelling, and the inimitable interplay between B-Real and Sen Dog cast over psychedelically spun gothic rap soundscapes courtesy of DJ Muggs. It bowed at #1 on the Billboard 200, and they made history as "the first rap group to land two albums in the Top 10 of the Billboard 200 simultaneously." Plus, "I Ain't Goin' Out Like That" garnered a GRAMMY® Award nomination in the category of "Best Rap Performance."
Speaking to its enduring influence, Black Sunday just earned 4x Platinum certification from the RIAA, while "Insane In The Brain" went 3x Platinum and "Hits From The Bong" reached Platinum status, adding to their already robust milestones. Retrospectively, STEREOGUM raved, "The Cypress Hill of Black Sunday were better than anyone else, possibly in rap history, at the straight-up rapped hook, the phrases repeated at just the right cadence and tenor to get them stuck permanently in your brain."
Black Sunday Expanded 30th Anniversary Edition Full Tracklist:
1. I Wanna Get High
2. I Ain't Goin' Out Like That
3. Insane in the Brain
4. When the Shit Goes Down
5. Lick A Shot
6. Cock the Hammer
7. Interlude
8. 3 Lil' Putos
9. Legalize It
10. Hits from the Bong
11. What Go Around Come Around, Kid
12. A to the K
13. Hand On the Glock
14. Break Em' Off Some
15. Insane in the Brain (Statik Selektah Remix)
16. Lick A Shot (Baka Boys Remix)
17. Hits from the Bong (DJ Muggs 2023 Remix)
18. Scooby Doo
19. Loco En El Coco (Insane In The Brain) [Spanish Version]
Stay tuned for more news and announcements coming soon from SME & Certified.