Seasoned Hip Hop artist/producer/CEO of 5th Quarter Records, Aruba Bandit announces the release of his full-length, collaborative album with vocalist Eyonna titled 'Now or Never.' The 20-track album features a diverse selection of talent including Bambi, Kyra Kane, APC Truth, Schav, Kinge Sage, Valentino King, and Jefferson Paris.
'Now or Never' is a conceptual canvas that depicts life, love, music, and the world seen and heard through different experiences and journeys.  From beginning to end Aruba Bandit and Eyonna deliver polished blends of vocals and rhymes that not only raise neck hairs but resonate throughout the entire album. Audiences will embrace and grip old-school flows, classic R&B arousal, gritty NY Hip Hop, island ecstasy, and even a club banger.
Soulful raindrops in Now or Never set the album off and allows listeners in when Bandit made it through times tougher than leather. Everything now from his heart is clear, there are no more games. So if building or connecting is to be made, it's now or never. About You picks up the tempo as Bandit describes the ins and outs of rappers who claim to rap about being real. However, their skills never suffice and the only thing that shines is the fallacies. Bandit and Eyonna pull on heartstrings in Just Begun. They vow to give their all and go from days of crying to days of waking up to flowers. Keep Your Head Up High reflects on past pain, struggles, and feelings of being close to the edge. Through empowering, lyricism Bandit reassures that quitting is not an option as legacies need to be built.
Bambi Skit is a small tribute to Aruba and captures that happy place upon revisiting. The only thing to save Bambi is taking a piece of Aruba back home to Brooklyn with her. Horns drive My Aruba with a jazzy cinematic vibe. If listeners close their eyes they can transcend to island beaches, the bright sun, and a sense of youth. What's your Aruba? My Paradise follows suit and conveys desires to take it back to paradise days where everyone can come together to rise above, share tears, and smile together.
Play My Song is the fix it! It exudes good vibrations for the body and soul. Just sit back and wrap yourself in the bass and replace stress with a glowed face…music truly is the ideal medicine to heal us physically and emotionally. Upside Down is exactly what Bandit and the crew do for this club banger. Once they step into the club the party kicks off.
You Still Here is a dedication to lives lost and loved ones passing. Even though they're heaven-bound their whispers can be heard through the breeze. Spending time now becomes conversations with the clouds. In Dreams, Bandit expresses the urgency to have a clear vision on goals even with closed eyes. For him, reality-based dreams encompass a world free of violence, free of disease, full of prosperity and love.
More Bills is the slap in the face record of the album. It touches on hunger, bills, shut-off notices, eviction notices, etc. all while trying to live and not just exist. It's difficult to stay afloat even a sold-out Bandit concert won't stop collection agency calls or hard knocks on the doors. In Wfam listeners are given a survival handbook when it comes to the streets and the music industry, as the two at times go hand in hand. Take heed and caution to venomous snakes camouflaged in high-standing grass. Don't allow them or anyone to take what you've earned. 2 of Aruba's Most Wanted represents the 297 AUA, where only the most real can be seen and heard. There are simple rules to oblige here; don't compare Bandit to others, don't involve him with corrupt politicking, and don't taint the innocent minds of our youth.
Habib Skit adds a bit of comedy to balance out the roller coaster of emotions wrapped up in the album. Bandit approaches the store clerk to find out who's been talking about him. Needless to say, it's not an easy conversation to follow. Talking About Bandit piggybacks the skit and is a clear-cut message to naysayers and haters…Although not phased by the games, don't put Bandit's name in your mouth.
If I Take You Back is a tough pill to swallow when it comes to relationships. Does she take him back even after the lying and cheating? Is he truly a changed man? Should she let karma sort out the complexity or give him another shot?
The revolutionary track of the album is without a doubt Rise. Bandit wants to know what happened to his island? Communities are being targeted, corrupted campaigns are in full fledge, racism and unjust politics are taking over. People must find the right time to come together, stand together, and rise to protest.
Samson is a cat and mouse chase…young emcee against vetted emcee. They're trying to catch up to Bandit's status but their chess moves are unimpressive as are their misinformed rhymes. How can you preach something you don't practice yourself? Respect is the album's finale and goes out with a bang and residual hook. Bandit stresses the age-old cliché respect is earned not given. He's not concerned about who's talking about him or his moves. His flow's been nice, he's been killing mics, and he sits high on the top 5.
Aruba Bandit and Eyonna exude unyielding honesty and emotion to provide an influential and monumental listening experience for audiences. Stream 'Now or Never' and connect with them both below.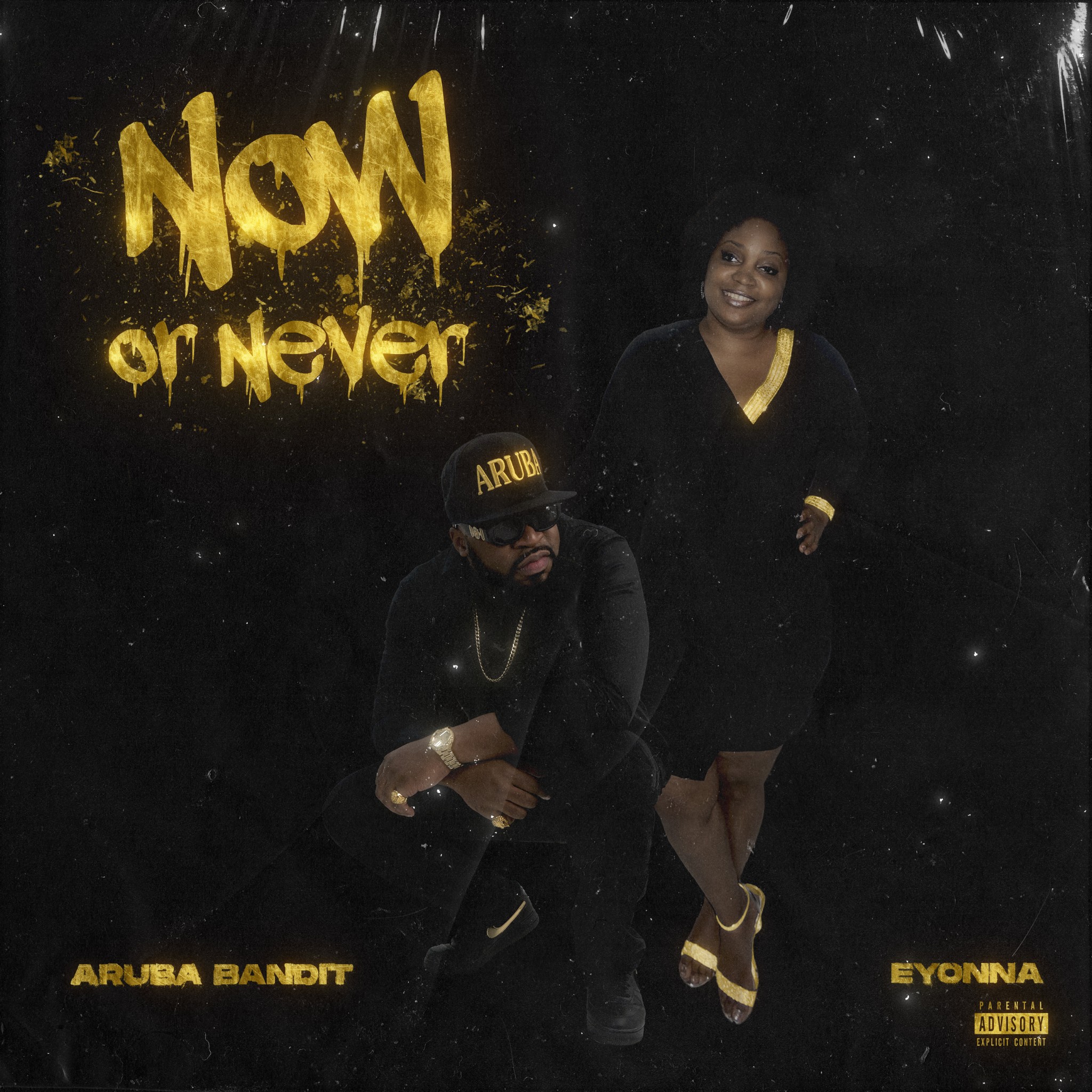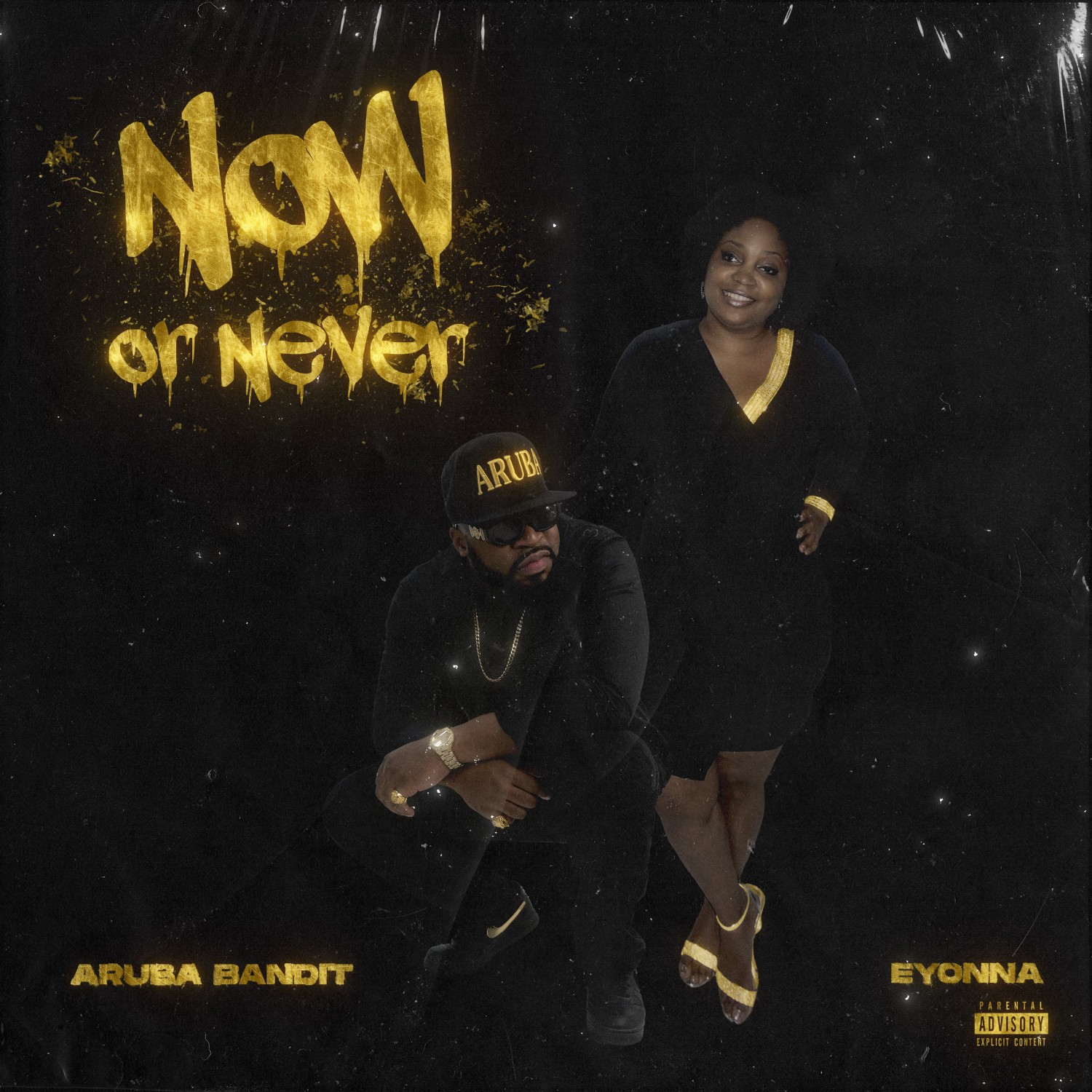 Connect with Aruba Bandit
Facebook: https://www.facebook.com/ArubaBandit297/
Instagram: https://www.instagram.com/arubabandit/
YouTube: https://www.youtube.com/channel/UCI-FDIwEdlUT9GxV8nYR-bg
website: https://www.5thquarterrecords.com/
Connect with Eyonna
Facebook: https://www.facebook.com/eyonna.davis
instagram: https://www.instagram.com/eyonnadavis/