Mr. Scratch Hook, also widely known as DJ E.Rex presents his album 'The Book of Mr. Scratch Hook' with accompanying video "Droppin' Bombs." The 13-track project is out now on all platforms and includes guest features from Hip Hop vets including Sadat X, Chris Rivers, Thirstin Howl The 3rd, King Magnetic, Mikey-D, DJ Heron, Shabaam Sahdeeq, Mic Mountain, and that is only naming a few. 
Mr. Scratch Hook lives up to his name and shows off his mastered skillset of weaving cuts and scratches in an out of boom-bap arrangements, for what fans are calling a timeless dose of earmilk.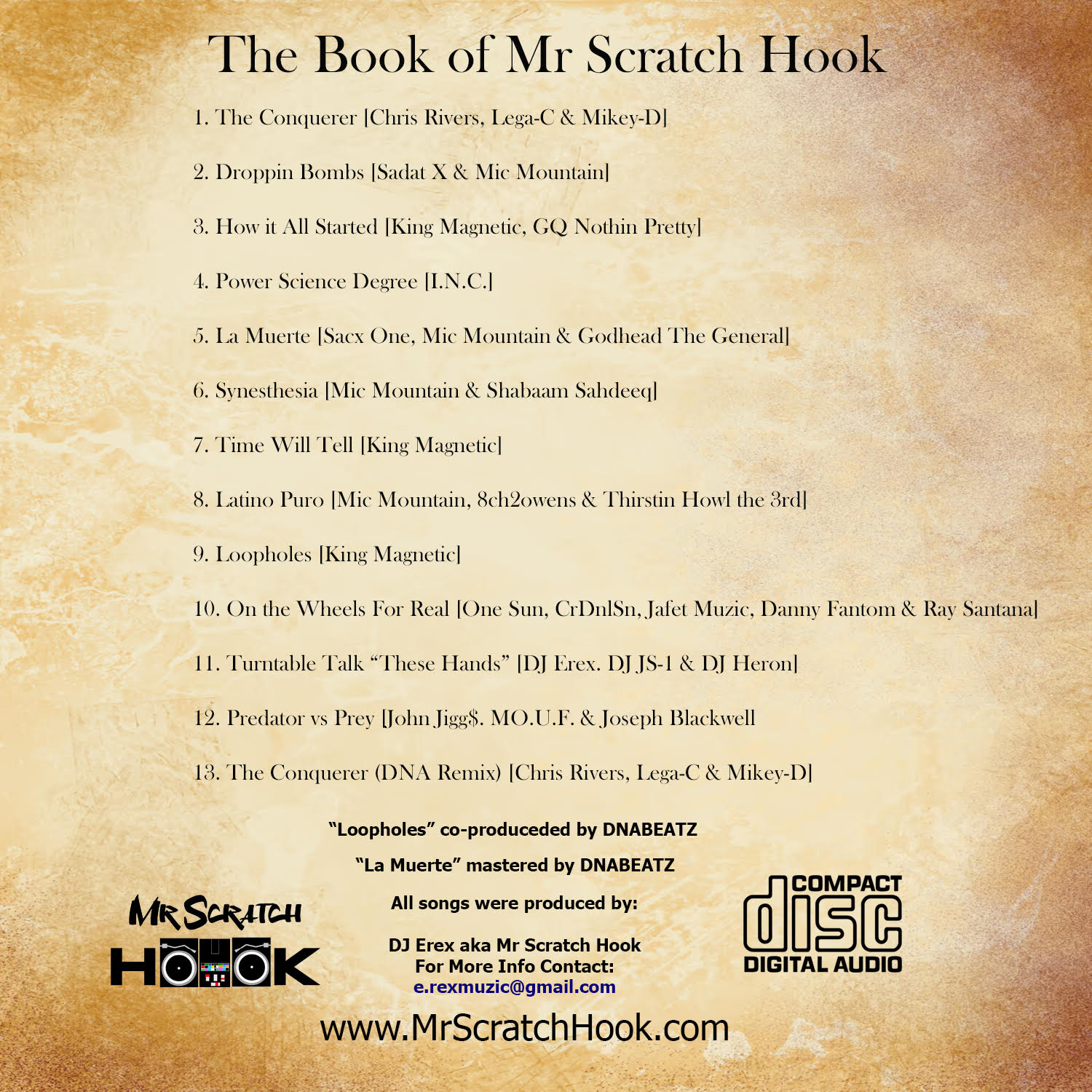 https://micmountain.bandcamp.com/album/the-book-of-mr-scratch-hook
Watch the animated video for the lead single "Droppin Bombs" Featuring Sadat X and Mic Mountain
The vibrant animated video is captivating both visually and lyrically. Mic Mountain and Sadat X deliver slick metaphors and bars proving that they can rhyme eyes closed and undistracted. "Droppin bombs keepin it raw" confirms the premise and echoes long after the video ends.
Connect with Mr. Scratch Hook
Website: www.mrscratchhook.com
Twitter: https://twitter.com/mrscratchhook
Instagram: https://www.instagram.com/mrscratchhook
FaceBook. Page: https://www.facebook.com/ScratchHook
FaceBook Personal: https://www.facebook.com/MrScratchHook/
Youtube: https://www.youtube.com/@mrscratchhook
Spotify: https://open.spotify.com/artist/6Ox7a0GAKDbXhi7UmLDY9E?si=7-DSbbp-ROSiUBQOsmI3cw