Snoop Dogg is currently working on an unscripted television series about the world's dumbest criminals, according to Deadline. The show is set to land on the Peacock streaming service, with the news revealed at NBCUniversal's Upfronts presentation by Kevin Hart, who called the rapper "the man, the myth and the legend."
But that's not all. Together, the rapper and comedian are also set to host a comedy sports show that's also in the development stages. Hart said his team at the Laugh Out Loud network are "working on some more hilarious content that will be coming to you soon."
Snoop posted the news on Instagram, with Kevin Hart adding, "Let's gooooooo @snoopdogg ….Me & my team at @lolnetwork are hype as hell to be developing this with you. Operation blow people away is officially in session….let's go Unc."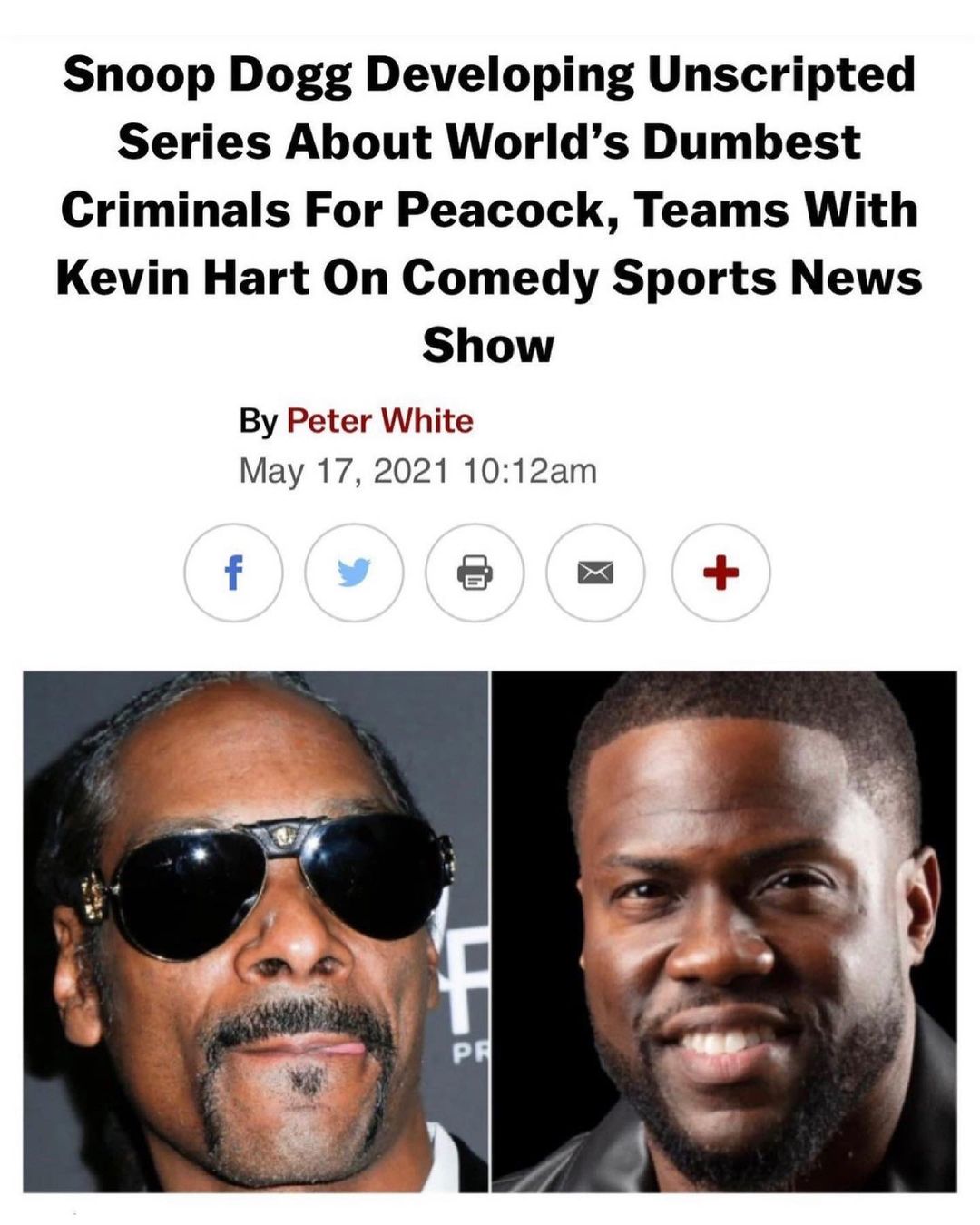 In April, Kevin Hart recalled smoking weed with Snoop Dogg during an episode of his Confessions from the Hart series.
"Man, you get an opportunity to smoke with Snoop, even if you don't smoke, you gotta smoke with Snoop, because that's fucking Snoop," he said. "You got to do it to say you did it … Snoop had this shit in the room that takes the smoke out the room. I forgot what it's called, but it basically takes the smoke and tries to put fresh air in the room where the smoke is taking all the fresh air out … I'm at a level of my life where I've never seen no shit like this."
Snoop Dogg recently announced plans for an anthology series about his life that he's putting together off the back of Straight Outta Compton's success.
"I think what makes the most sense to me is the 'Snoop Dogg anthology,' the life story of Snoop Dogg, where it starts with my mother and father meeting each other before I was even born, to me being born, to me growing through the '70s and '80s and the '90s," he said. "Me being the 'Black Forest Gump,' so to speak, seeing me in all of these highlighted moments in American history."
He continued, "We're developing that, putting it together as we speak, just trying to take my time and put the right information out. I don't want to rush to it just because [Straight Outta Compton] was successful, just to come behind it. I want to take my time and make sure that I've put together the right infrastructure of how I became me — you know, the people that inspire me, my upbringing, my mother, my father, my friends, community influences, inspirations that shaped and molded me.
"I don't see it being a biopic, because I can't give all of this great information and entertainment in two hours. But if I give it to you in an anthology, you're likely to get six or seven seasons of this."