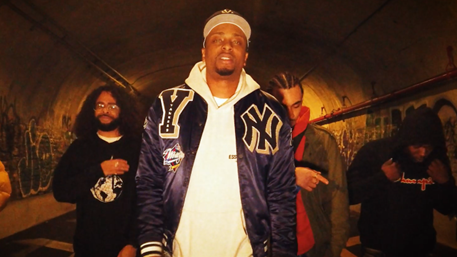 Bronx, NY's Stone-Cold Teeg Austin has dropped new visuals. Produced by UK expatriate Bop Phrases "Black Caesar" is some smoky late-nite blunted soul for Austin's baritone bars to float over. Filmed in midtown Manhattan in the small hours of the evening, the video reflects that vibe effortlessly.
Speaking on the joint Austin relayed "the title is definitely an homage to that classic 70's exploitation film and has some of that bravado and energy to it. However, it's also a play on that and keeping it more positive energy too."
Watch official video for "Black Caesar" here:
"Black Caesar" is the first leak from the forthcoming album All Phrases, which is fully produced by Bop Phrases, who has previously laced tracks for artists including Dark Lo, Eddie Kaine, Cydney Poitier and XP The Marxman.  Austin states that this is his most personal work to date and that he will be performing material from the project on his forthcoming mid-west tour run supporting Rome Streetz.
More Info:
https://www.instagram.com/teeg_austin/–
Jerry Graham Publicity
Email:[email protected]
Phone: (845) 659-5918
Twitter:https://twitter.com/JerryGPublicity
Instagram:https://www.instagram.com/jerrygrahampublicity/

Facebook:https://www.facebook.com/jerry.graham.501