West Trenton, NJ-based emcee Uneeke Kenetic enlists Dom Pachino for his new video "Golden Sword." The single is off his new project 'Lyrical Godfiti' with production by Mr. Tera.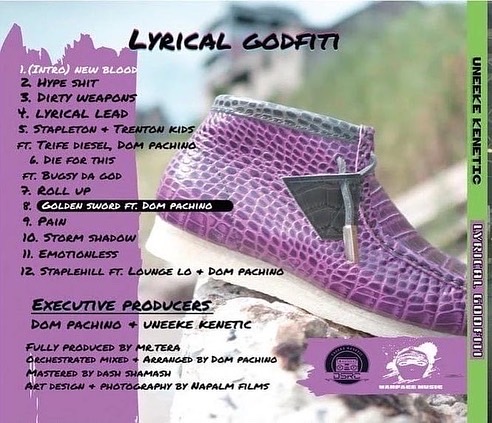 Instantly, the video gives off NY Chinatown vibes which intensify the lyrical slaying. Dom Pachino enters with the clear-cut hook, "Ya'll n*ggas can't f*ck with the sword Ya'll n*ggas can't f*ck with the sword, we leave you laid out beheaded laid in the morgue" to set the tone of the video. Uneeke Kenetic follows with minutes of menacing bars letting everyone know who he is and what he's capable of on and off the mic.
Gritty east-coast boom-bap cadences steer the track and encompass the rawness spewed by Uneeke Kenetic and Dom Pachino. Watch "Golden Sword" and connect below.
Get a copy of 'Lyrical Godfiti
Lyrical Godfiti by Uneeke Kenetic & Mr.Tera (CD) | NAPALM RECORDINGS (bandcamp.com)
Digital: Lyrical Godfiti by Uneeke Kenetic – DistroKid
Website 2 Free tracks: Uneeke Kenetic (keneticmusic.com)
Connect with Uneeke Kenetic
Instagram: https://www.instagram.com/uneeke_kenetic7
Facebook: https://www.facebook.com/uneeke.kenetic.97
Website: Uneeke Kenetic (keneticmusic.com)