Rap music progress and moves quickly, and every year hip hop fans are looking for some underground and unique rappers to bet on. Rappers who could shift the industry or at least add their special touch to the culture and the industry.
Mac & A.K. is a rap group that should be on your radar for the upcoming years. '' Mac & A.K '' refers to the two team members, Keith Gordon is A.K, and Mac or Mac Pacino goes to Keith's deceased twin brother Eric Gordon. Mac died in 2013 letting his illustrious brother hold the torch and keep the group legacy alive.
The Gordon brothers grew up in East Palo Alto, a small city in San Mateo County, California. The crack epidemic decimated the city, particularly the predominantly African American population. By 1992, the city had gained a reputation of being the U.S. "murder capital" and was the nation's leader in per capita murders that year with 42 for a population of just 24,000 and according to US Census; eighteen percent of East Palo Alto residents live below the poverty line.
Mac was in a group called Black Jack and they released a classic album on Ichiban Records in the early 90s. Mac left that group and he formed with his twin ''Mac & A.K.''
The twin brothers made a splash in 1996 with their debut EP, "Westbound (For Riders Only)." through imprint "Streetlife Entertainment". They were briefly signed to Tommy Boy, and they earned a gold record for the song "Way To Saucy" featuring Mac Mall from the movie soundtrack "Nothing To Lose", which featured Martin Lawrence and Tim Robbins. but soon realized that they were better off on their own, and have released two albums on their own label, E & K Music. "Legendary" is their third release, and not only is it on their label, but label co-owner Mac handles production on all twenty tracks.
The label name is E & K Music Group, which is the first letter's in their respective names.
The first project after forming the record label E&K Music Group was "Money Rhymes". Money Rhymes features some of the hottest rappers out at that time, including E-40, Above The Law, Mac Mall, and many more. This increased the presence and legend known as Mac & A.K, as ferocious fans awaited the next release. "Hustle Hustle" music featured the likes of The Game, Young Noble from Tupac's Outlaws, and Bay Area artists like Chunk, Sean T, and Scoot Dog.
Throughout their career, they have done songs with other notable hip hop legends such as Planet Asia, San Quinn, Chunk, M-Dash, Chunk, Lil Ric, JT The Bigga Figga, and a lot more.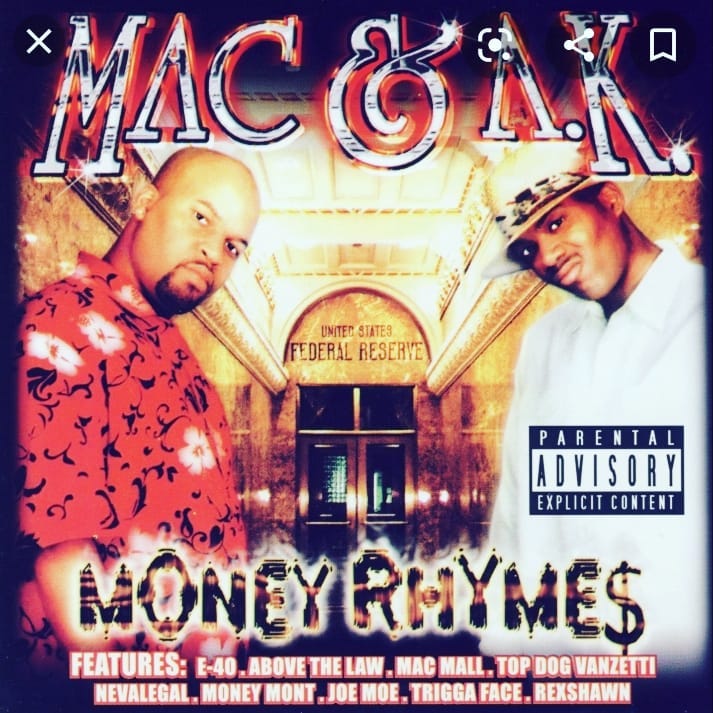 The group's last release was called "Legendary" which was also garnered much street cred and industry praise.
A. K WILL KEEP THE GROUP TORCH LIGHTING
A.K started listening to hip hop with the Sugar Hill Gang and Kurtis Blow. But the D.O.C, Big Daddy Kane, Too Short, Rakim, Ice Cube, Kool G Rap, and N.W.A made him wanna start writing.
In honor of his brother and deceased teammate Marc "Gasoline" which is the lead single and video from the upcoming album, "Only The Strong Survive" was made. It's a perfect hip-hop melody for any moment and is full of nostalgic vibes of the 90s Hip hop sound that was so catchy, substantial, and melodic with the mid-tempo beats, jazzy samples, and poetic memorable rhymes.
"Gasoline" outlines what real hip hop is about, It's a ticket that takes you in the world of hip-hop from the '90s to nowadays.