BUFFALO KIDS ART GALLERY OWNER AND MULTI-HYPHENATE TO PRESENT EXCLUSIVE ART SHOWCASE DURING MIAMI 2021 ART WEEK, FEATURING MARIELLA ANGELA AND ISAAC PLEYO AT DIESEL WYNWOOD CONDOMINIUM SALES GALLERY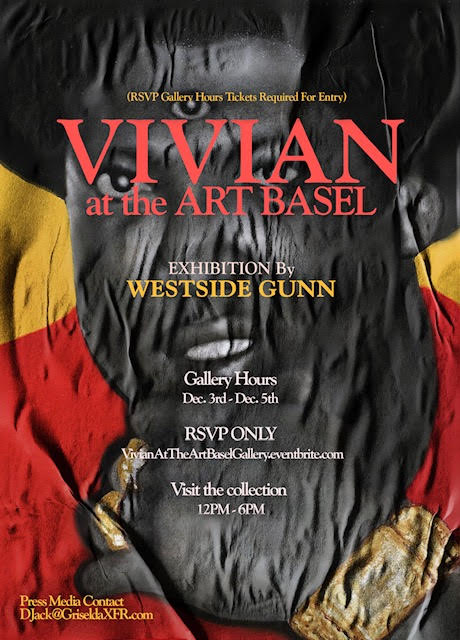 WHAT
 Diesel Wynwood Condominium will host Vivian at The Art Basel, a pop-up exhibition by famed rapper and international art collector, WESTSIDE GUNN, in his signature 'elegantly grimy' style, during 2021 Miami Art Week.  The event, named after a hit song from the mogul's 2016 debut album, FLYGOD, will showcase art curation from the lens of hip-hop culture. Sponsored by D'USSE COGNAC, a collection of pieces by Mariella Angela, a self-taught American hip-hop oil painter known for her depictions of music's biggest stars from Jay-Z to Cardi B, and Isaac Pelayo, a street art/hyperrealist painter, will be on display. In addition, there will be an exclusive Miami-themed gallery gift shop that will showcase WESTSIDE GUNN's prowess as a fashion designer.  1of1 Griselda by Fashion Rebels apparel and commemorative Vivian at The Art Basel merchandise will be available for purchase. The presentation will begin with a VIP, invite-only opening ceremony, followed by viewing for the public. 
WHEN
Invitation-Only Opening Night: December 2, from 7-11 p.m. Public Viewing: December 3 to 5, from 12-6 p.m. (RSVP required)
WHERE
Diesel Wynwood Condominium Sales Gallery 148 NW 28th, Street Miami, FL 33127
WHO
Diesel Wynwood Condominium is a newly-launched, luxury residential condominium project developed by Bel Invest.  Located in Miami's most vibrant neighborhood, the building will rise eight stories with 159 residences once completed.
WESTSIDE GUNN is a prominent rapper and multi-hyphenate with a 90's hardcore style, updated for modern-day, which includes a veritable slew of classic solo albums and albums he has executive produced and curated.  He is renowned for his ability to combine music with his passions for fashion and contemporary art.  Recently, he opened his own gallery- Buffalo Kids– in his hometown of Buffalo, NY. 
Mariella Angela is an oil painter who rose to fame in the hip-hop community, and beyond, through her portraits of renowned rap artists ranging from Lauryn Hill to Gucci Mane and Tyler, The Creator.
Isaac Pelayo is a hyperrealist artist known for his Street Baroque style, exploring innocence and influence.  His pieces are shown in world-class collections including those of Sean Diddy Combs, Shepard Fairley, Jeff Hamilton, Westside Gunn, Hopsin to name a few, and various museums internationally, such as the Museum of Latin American Art in Long Beach, CA and The Trotsky Museum in Mexico City.