Digital Underground legend Shock G passed away in a Florida hotel room on April 22, leaving his friends and family in a state of shock. The 57-year-old MC, who introduced Tupac Shakur to the world, was celebrated by countless Hip Hop artists in the wake of his death. From Run The Jewels' El-P and Evidence to Ice Cube and Public Enemy's Chuck D, there was no shortage of condolences pouring in on social media.
As Shock G's friends continue to reflect on his life and legacy, mixtape king J. PERIOD had a story to tell. Last week, the veteran producer/DJ — who just dropped his inaugural and aptly titled solo album Story To Tell (Chapter One) last month — recalled a time he was at Rakim's home and stumbled upon an interesting discovery involving the late Shock G.
On Saturday (May 15), Rakim shared J. PERIOD's tweets to his Instagram account, co-signing his tale.
"Shock G is a legend," J.PERIOD began. "He is a towering icon of Hip Hop culture, and quietly, one of the most groundbreaking artists of all time. If you didn't know this—if you only knew Humpty, or that he discovered Pac—it's ok, most people didn't know. But let me tell you story…I once went to Rakim's house, and on his studio wall, he had an amazing poster-sized cartoon of himself on top of a giant cement block, crushing all the other MC's beneath it. At the top, it said, 'The Master Poet.' When I looked closer, I couldn't believe my eyes. #ShockG."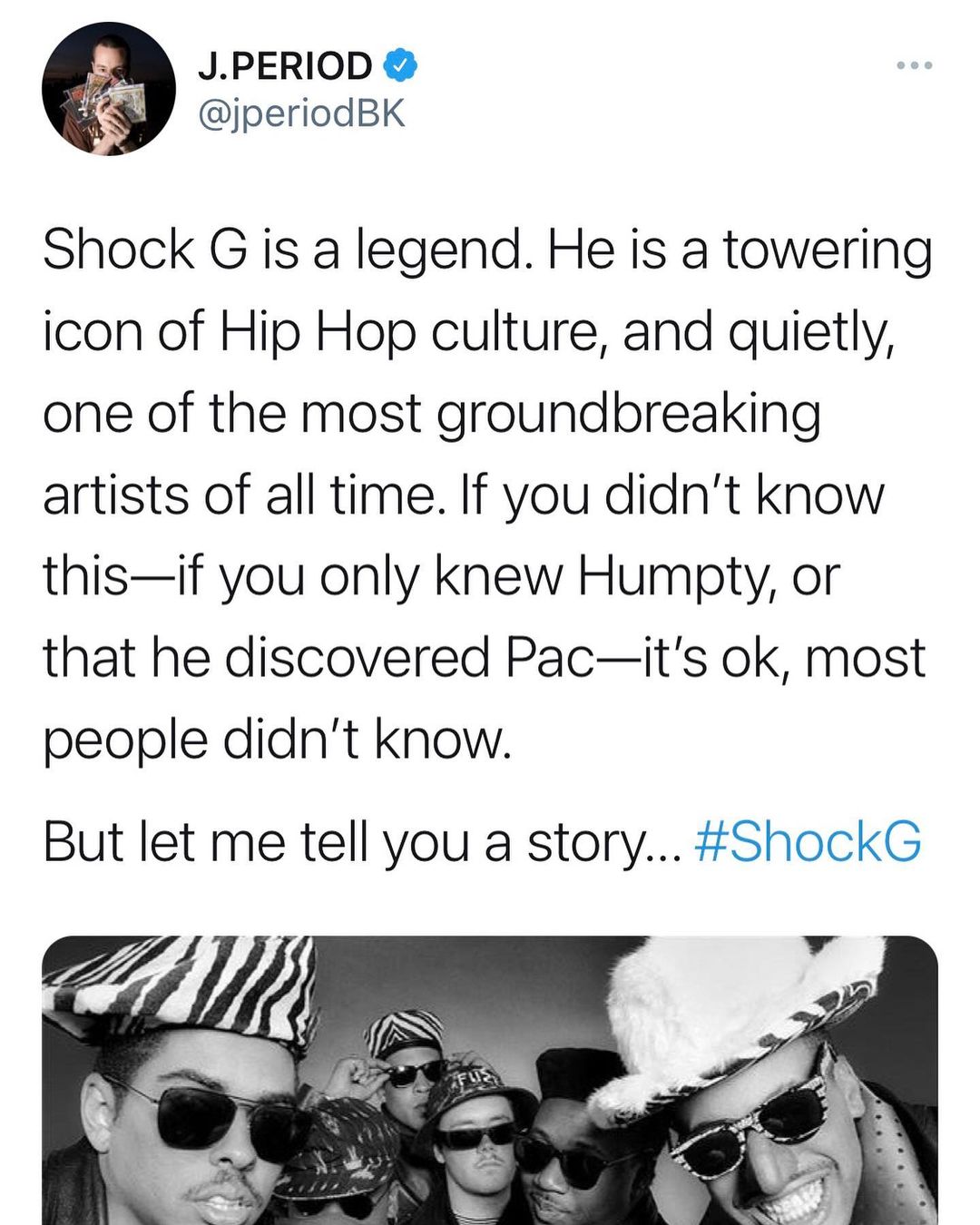 J. PERIOD continued, "Rakim told me the story: In 1989, a kid had waited outside his dressing room in Oakland for an hour after a show, hoping to give him this giant cartoon. The 'kid' was Shock G but Digital Underground hadn't come out yet. Three months later, 'Doowutchyalike' blew up. Rakim kept that drawing on his studio wall as inspiration…for [at least] twenty years. Let that sink in. The greatest MC that ever lived kept Shock G on *his* wall for inspiration…to this day."
He ended with, "That's how important Shock G is to the culture. #RIP #ShockG #DigitalUnderground."
J. PERIOD also included three photos of the original drawing and although weathered over the years, it still loudly illustrates how much Shock G looked up to Rakim.